First of all thank you for your confidence in our team for the upkeep of your pieces!

It is now time to take all precautions to ensure that the journey is in the best conditions - an engine components have value and are fragile -

Preparation of parts

Do not leave oil in the case of a gearbox.

Wrap each piece separately - use rags or polystyrene -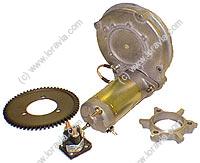 planning a fairly large cardboard pieces and place in center. stuff with rags.


Enclose a letter stating your name address and telephone - all useful comments during the realization of the estimate -

Write the address on our packages
Loravia
8 bis, rue Louis Blériot
F-57640 ARGANCY
FRANCE

Tél. (+33) 03 82 56 63 71

------->

------->

LORAVIA TIP: Do your package to ensure its contents if the value

We will contact you upon receipt of the package in our workshops.
Excuse us for translation errors - thank you for the report